The best value in fully featured shred trucks, the STAK SERIES is engineered and built tough to outlast all competition. If you want proven reliability, less maintenance, massive throughput and payload – look no further.
Available in 3 Models: STAK ONE 26, STAK 26 & STAK 33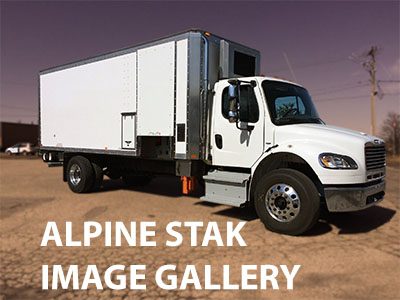 Includes all the standard features built into every Alpine Mobile Shred Truck, including:
Alpine solid shaft shredder
Premium, low profile aerodynamic body
Safety strobe lights & backup camera
Shred Load Detection fuel saver
Fully featured premium chassis
STAK ONE 26 – NON CDL shreds up to 4,500 lbs/hr* with up to 8,750 lbs payload
STAK 26 – NON CDL shreds up to 6,000 lbs/hr* with up to 8,500 lbs payload
STAK 33 – CDL shreds up to 7,500 lbs/hr* with up to 12,750 lbs payload
KEEPING IT SIMPLE IS SMART
One thing we've learned over the years is that the more complicated things get, the more likely they are to fail – and the more expensive they are to repair. Part of our design and engineering process is to figure out how to simplify and make things more efficient, while still withstanding rigorous use. The simple and durable solution is the one that works best.
We have engineered Mobile Shredding Equipment that is simple to maintain – with fewer moving parts than competitive equipment. Our low-RPM, high-torque shredder assembly increases the life of all hydraulics, pumps, gearboxes and shredder shafts. High tip force and aggressive hook profile ensures superior throughput even on the toughest dense paper.
The end result is a shred truck that requires low maintenance and is ENGINEERED TO LAST. KEEPING IT SIMPLE IS SMART.
*Throughput varies with material.
Standard Features Include:
Robust shredder assembly with solid cutter shafts
Individual direct drive planetary gearboxes
Remote curbside control with engine / PTO and shredder start / stop
Alpine ShurGrip cart lift system
Shred Load Detection
Full vision system including safety backup camera
OHSA compliant integrated operator safety system
Low travel height and low center of gravity. We have lowered our body an additional 10% which means improved aerodynamics and better fuel efficiency.
Heavy duty body construction
Galvanized Deck
Optional built in Hard Drive Shredder (available in most models)
---
---
Testimonials
Q: How is your new STAK 33?
It's great. The first job we had with it was shredding 12,000 pounds of hardcover, 4 inch thick, textbooks. Super dense stuff. With the STAK 33 we couldn't even keep up with it. It tore through the books like it was basic office paper. It did full 96-gallon bins in 2-3 minutes. Really amazing.
Thanks again for all your help!
Grant DiGioia
Owner, Patriot Shredding
---
"I had the pleasure of running a route with the new 720 Stak yesterday. With the short holiday week, I needed to hop on it to do some large file purges for some big clients. I've got to tell you that you guys really nailed it with this truck design.
I was able to shred 10,620lbs of paper in just under two hours; it is such a nice way to start a long day by getting far ahead of schedule. I love the speed of the shredder, the increased speed of the gripper tipper, and the speedy offload as well. The guy at the recycling center thought he would be able to casually keep up with my paper offload with his bobcat. I don't think he'll make that mistake again, considering I buried he and his machine in a pile of SOP.
All of the design upgrades that you have put into this truck, even the little ones, are all well thought out and appreciated. Keep up the good work, we couldn't be happier with our new Alpine!"
J.R. Knight
Gainesville, VA