5 Simple Reasons You Should Choose Alpine Shredders
We know the decision to purchase a piece of equipment is a difficult one. In fact, the shredding industry is fortunate to have several manufacturers providing great equipment. But there is a difference.
If you want the best value, the lowest cost of ownership and the simplest piece of equipment – you want the ALPINE ADVANTAGE. Here is why:
1. Ease of Use
Simple controls, easy to operate. Start/stop engage, all at your fingertips. Reliable components made in North America for lasting performance. Full vision system includes shredder / payload cameras and back up camera standard to ensure safety first.
3. Superior Performance
The Alpine Shredders Solid Cutter Shaft can handle tough material better with 242% greater allowable torque and twice the tip force strength than the leading competitors stacked set up. Aggressive high profile tip patterns shred paper faster with lower shaft speeds increasing life expectancy of the shredder, gears, pumps and motors.
5. Innovation
In 2004, Alpine Shredders introduced the shredding industry to the pinch type lift and have never looked back. The Alpine Shredders "Shur Grip" is the ultimate universal cart lift system for any size or shape cart.
2. Quality Build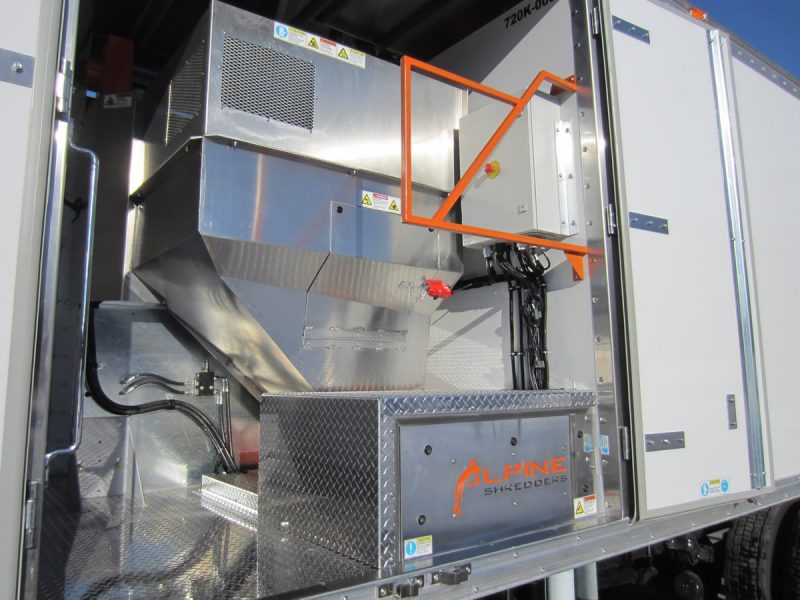 Top to bottom, every part of our build is completed by our skilled professionals with the finest materials and components to ensure lasting performance and durability. Our low profile, aerodynamic body saves up to 20% in fuel costs over the competitor's square front body. We do not compromise quality for price!
4. Lower Operating Cost
Simple Shredder = Simple Maintenance. With only six major parts, the Alpine Shredders System is a model of simplicity. Only daily greasing of the two bearings – no stacked shaft tightening required. With local repair shops and many service parts "over the counter" you don't have to rely on expensive propriety manufacturer parts and service.